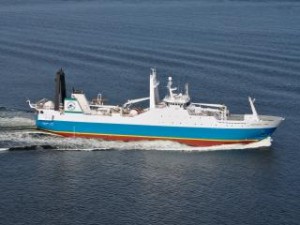 Teknotherm COO Vladimir Sukharev recently returned from Dutch Harbor, Alaska after completing a five week sea trial on board the F/T Northern Hawk. At 341 feet, 5190 tons, and carrying a crew of 135, the Northern Hawk is part of the Coastal Villages fleet. Several years ago Teknotherm Refrigeration installed a plate freezing system. In 2011 a Mycom 200 VLD skid for freezing system and Mycom 125  LUD skid for RFW were installed. This year we returned to upgrade and modernize their automation and control systems.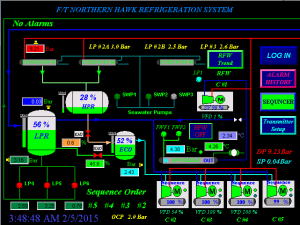 We replaced their old, obsolete Sabroe system with a top-of-the-line TeknoLogic SCA II. This new system allows remote control and monitoring of the refrigeration system to optimize use of the compressors, refrigerant flow, energy consumption, save fuel, and more. The new systems allows monitoring and troubleshooting from Teknotherm office in Seattle, to help the  boat engineers troubleshoot an issue with the system if it ever arises. The graphic interface is simple to use and tells the engineer everything he needs to know at a glance. By carefully controlling and monitoring the system, it works at peak efficiency at all times. This ensures the product is kept at the ideal temperature so it brings the highest price at market, as well as using no more power than necessary to do the job right. This control system was designed by our in-house engineers and built in our UL certified panel shop.
In addition, we also replaced four compressors and provided complete start-up service. For more information on how our unique, user-friendly automation and controls can boost the bottom line for your vessel, call us at 800-782-1997 or visit www.teknotherm-inc.com.