Teknotherm Refrigeration has been helping fishermen along the east coast for decades. We know how important it is to keep your catch fresh so you get the best price in the market, and Teknotherm can help you do just that. From Maine to Florida, we can provide the parts and service you need to keep running smoothly. We have provide marine refrigeration service and systems to some of the biggest names in the industry, including Lund's Fishiers, American Seafoods Company, Glacier Fish Company, Trident Seafoods, O'Hara Corporation, and many more.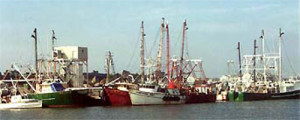 Marine Refrigeration all along the Eastern Seaboard

With world-class technicians, 24-7 tech support, and a parts department that will go the extra mile, Teknotherm Refrigeration will keep your chillers, ice makers, and condensers working great. From our proprietary TeknoLogic control solutions with remote monitoring and troubleshooting to our innovations in the fields of ammonia refrigeration, we are always in the lead. We offer the most dependable RSW chillers, ice makers, compressors, condensers, seawater strainers and controls & automation in the business.
What can we do for you?

Whether you are in Cape May, Portland, Gloucester, or Boston, Teknotherm can provide the equipment, knowledge, and technical support you need. Building a boat or need an complete new system? We can help you with that. Need replacement parts, repair services, or maintenance? We're happy to help. Our in-house engineering service and fully equipped fabrication shop are ready to design, build, and repair virtually any refrigeration or cooling system you need. Check out our world-class repair and maintenance services or call our well-connected parts department to see what we can do for you.
With service throughout the Bering Sea and Gulf of Alaska, we can get you up and running, and keep it that way. Contact us today if you need parts, service, or equipment for your cooling or ice making system.