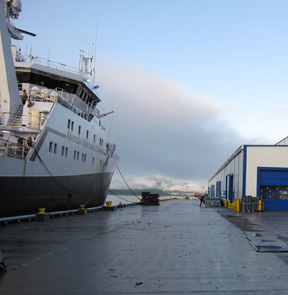 Teknotherm is known worldwide as a premier supplier of  marine refrigeration solutions to the fishing industry. In this business, only the most dependable, efficient and durable equipment will do.
Our innovations have been helping fishermen bring the best possible product to market for years. Our Seattle office is located right down the street from Fisherman's Terminal and Pier 90.
We have been providing marine refrigeration service and systems to some of the biggest names in the industry for over 20 years, including American Seafoods Company, Glacier Fish Company, Trident Seafoods, O'Hara Corporation and many more.
Innovation
Founded in 1929, Teknotherm continually strives to be at the forefront of refrigeration, AC and freezing technologies. From our proprietary PLC control solutions with remote monitoring and troubleshooting capabilities to our innovations in the fields of ammonia refrigeration we are always in the lead. We offer the most dependable RSW chillers, ice makers, compressors, condensers, seawater strainers and controls & automation in the business.
What Our Customers Say
"I have worked closely with Teknotherm Refrigeration for almost 20 years while sailing aboard large factory trawlers in Alaska as Chief Engineer. I have always been impressed both by their expertise and knowledge of refrigeration systems, as well as their readiness to provide service at a moment's notice. Now I am Port Engineer for some of these vessels and I see even more of the expertise and quality which makes Teknotherm an outstanding company. I trust them wholeheartedly to engineer, service and provide the refrigeration and freezing solutions for the vessels we operate. There is no doubt that they are at the forefront of refrigeration innovation."
-Mike Madsen
Port Engineer Northern Hawk
Coastal Villages Pollock